Synergy Pharmaceuticals (NASDAQ:SGYP)
Synergy filed an 8-K this morning.
Check out what happened to the stock today: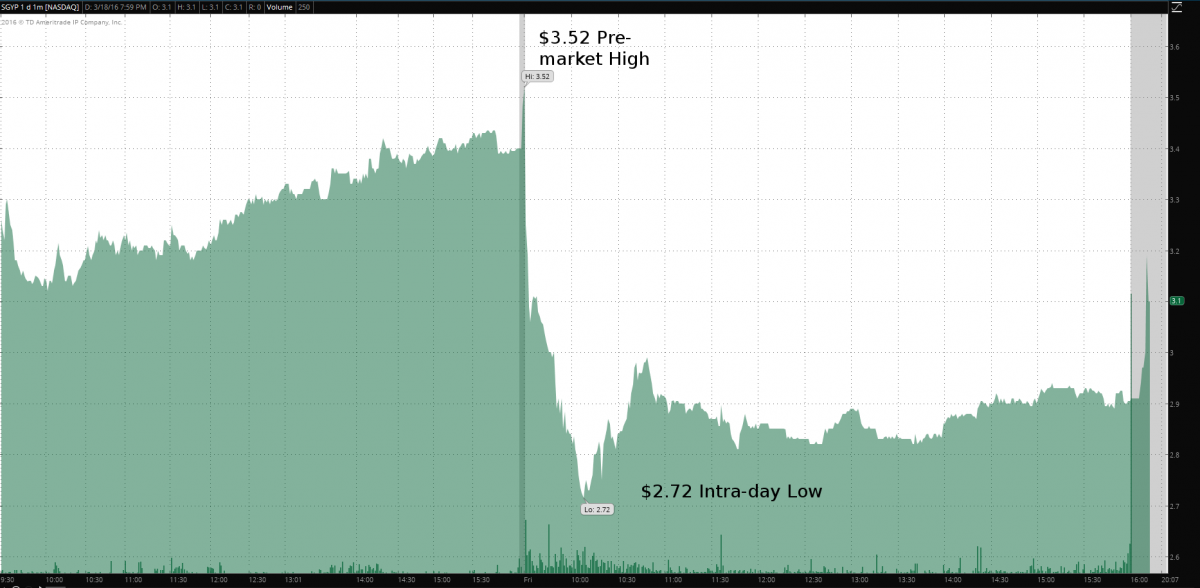 So why did the stock plunge 15%?
We believe it's because investors misunderstood the terms and purpose of the financing deal SGYP announced today.
Here's a video detailing our conversation with SGYP Chief Financial Officer Gary Sender regarding the deal announced today.
Deal Terms
NOTE: SGYP filed an amended 8-K in the evening to correct the amounts of the notes being exchanged (by $100,000).
The basic deal terms are as follows:
SGYP is exchanging a total of $79.8 million in principal of their outstanding 7.5% 2019 senior convertible notes plus accrued but unpaid interest of $2.4 million for a total of about 33.4 million shares of SGYP stock.
When investors saw these numbers in the originally filed 8-K their reaction was basically:
ZOMG! $82.2 million divided by 33.4 million = $2.46 per share!
That's why the stock tumbled 15%
Adjustment to Shares Issued
One additional deal term that confused investors was the fact that SGYP will be adjusting the number of shares issued based on the volume weighted average price of SGYP stock over 5 trading days.
This sounds eerily like the kind of deal terms you see in a "death-spiral convertible offering".
The formula for the adjustment involves, among other things, the greater of the daily volume weighted-average price (VWAP) or $2.75
Understanding the Deal
To properly understand this deal, we have to remember that back in November 2014, SGYP raised $200 million through a large convertible debt offering that had a conversion price of $3.11.
When this deal happened, SGYP's fully-diluted share count (accounting for the debt as if fully converted to equity) was about 190 million shares.
Under the present deal, $79.8 million of this debt is being retired. That amounts to 25.7 million shares being issued. However, these shares were ALREADY part of the fully diluted share count.
But SGYP is issuing a total of 33.4 million shares, so this means there are an additional 7.7 million shares being issued.
What gives?
Here's the part that most investors (including us) missed at first glance.
The debt holders were entitled to collect 7.5% interest (paid in cash) for the next 4 years.
What SGYP has done is to pay the investors their interest by giving them additional shares of SGYP stock.
Conserving Cash
This move is really a cash conservation move on SGYP's part. By paying the interest in shares, they reduce their annual cash outlay by about $6 million per year for the next 4 years.
While $6 million per year may not seem like much, when your cash position is as tight as SGYP's is right now, every little bit helps.
And get this, the $24 million SGYP would have paid over 4 years, divided by the 7.7 million extra shares issued amounts to $3.11 per share - or exactly the same conversion price as the original 2014 convertible debt offering.
The Deal is Net Positive
Once you understand that what SGYP did was prevent $24 million in cash from walking out the door by issuing 7.7 million shares, it is clear that this deal is a net positive.
SGYP took advantage of an opportunity to retire debt and reduce cash burn at the same time.
What's Next
The major events for SGYP this year are the readouts from 2 phase 3 trials of plecanatide in constipation-predominant irritable bowel syndrome (IBS-C).
In our conversation with management, SGYP re-iterated their guidance to us regarding timelines for these data readouts.
The first IBS-C trial will readout in the first half of 2016 and the second trial will readout in the second half of 2016. The new drug application of plecanatide in IBS-C is scheduled to be filed by year's end.
Sometime before the NDA filing however, we expect SGYP will raise cash. The company ended 2015 with $111 million on the balance sheet, and they are currently burning $101 million. While the current deal trims the cash burn by $6 million, the company will need cash before year's end.
Buy the Dip
The implication of the above analysis is that investors over-reacted to this deal.
The fault lies squarely with SGYP management who failed to properly communicate the deal terms and the rationale behind the deal when it was announced. This speaks to a certain lack of experience regarding how events would be perceived by investors. We hope SGYP will try to understand investors' mindsets going forward as several major catalysts lie ahead in 2016.
Longer term investors and swing traders should use the irrational selloff in SGYP to buy the dip. Once the deal terms are properly understood, the stock should likely recover. After all, the debt holders decided they would rather have a little more SGYP stock than having cash for their interest payments - that's a bullish sign.
Get More In-Depth Analysis
To find out our longer-term view on SGYP as well as a detailed review of the major biotech events occurring in the next few weeks, be sure to check out the Red Acre Video Biotech Binary Event Watch.